It is with great excitement that we welcome
Sheri & Wes Murasaki t
o the Corcoran Pacific brokerage in Mililani, Oahu!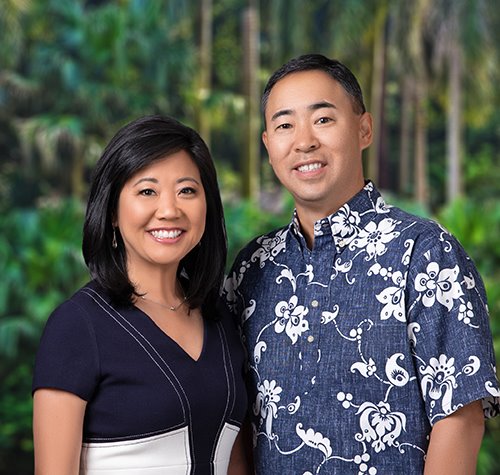 Sheri Murasaki has deep roots in the islands, going back four generations. Coming from a military family, Sheri was born in Tacoma, Washington and moved a bit growing up. When her father was stationed at Hickam Air Force Base in 1978, it gave their family the opportunity to return to Hawaii. After honorably serving in the U.S. Air Force for 20+ years, he retired to make Hawaii their permanent home. Mililani has been Sheri's home ever since, attending elementary, middle, and high school in the Mililani neighborhood. Mililani is the place she continues to call home, where she and her husband Wes bought their first home, and where they have chosen to raise their family.
Sheri began her career in Real Estate 15 years ago. Born with an entrepreneurial spirit, she had always dreamed of owning her own business but was too cautious to move forward. However, at the urging of her supportive husband, she decided to consider looking into Real Estate as a means of building that business of her dreams. Sheri jumped in wholeheartedly, and never looked back. Entering Real Estate gave her the opportunity to assist a variety of clients, including a few of her past teachers, relatives, friends, and their families to reach their real estate goals and build long-term security and wealth.
Wes Murasaki was born and raised in the islands, growing up in Moanalua. He joined his wife Sheri in real estate after a long 25+ year career in the hotel and hospitality industry. Wes knows Waikiki like the back of his hand and he loves living in Hawaii. While friends and neighbors were moving away to the mainland, he knew Hawaii would always be the place he would call home. Owning a piece of paradise that people from around the world dream of visiting was his goal from an early age. He was able to realize that goal and go on to help family members grow their own investment portfolios with Hawaii real estate. He is passionate about helping EVERYONE own a home of their own as means of setting permanent roots and securing their financial future.
Together, Wes and Sheri are a dynamic team, committed to serving clients with honesty and integrity. They believe in following their client-centered moral compass to map out a plan of action that allows you to reach all of your real estate goals. When not working, they enjoy traveling, meeting interesting new people, and spending time with family, their two children and a Morkie named Maisy.