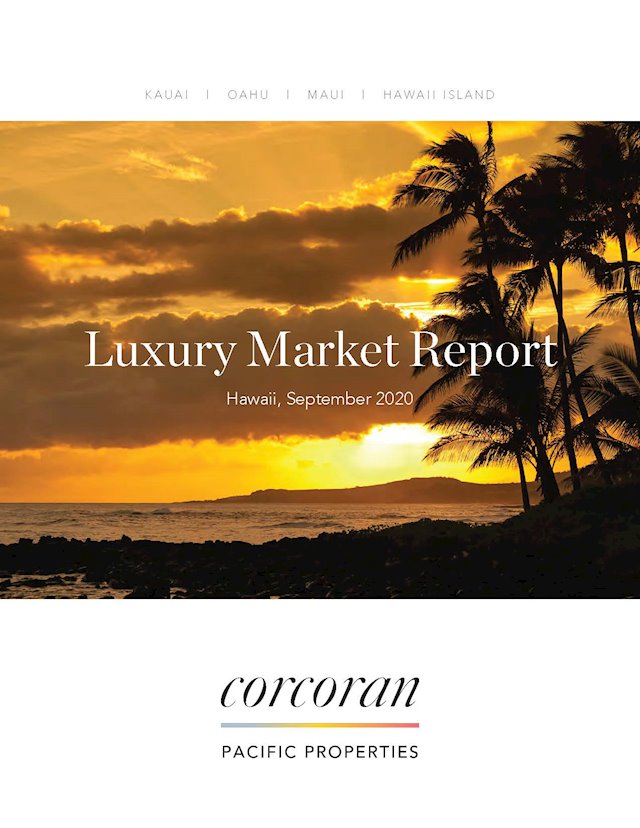 We are pleased to present a closer look at the luxury real estate market in Hawaii, showcasing detailed statistical analysis of Kauai, Oahu, Maui and the Big Island of Hawaii for August 2020.
Hawaii's travel restrictions continue with both residents and travelers arriving from out-of-state still subject to a mandatory 14-day self-quarantine. However, as of October 15th the Pre-Travel Testing Program is scheduled to be implemented, which provides travelers with an alternative if they are tested no earlier than 72 hours before their flight arrives. This must be an FDA-approved nucleic acid amplification test (NAAT), performed using a nasal swab, and can show proof of negative test results from a CLIA certified laboratory. For more information visit: https://www. hawaiitourismauthority.org/covid-19-updates/
This is exciting news, as it does offer some semblance of normality for the real estate market, allowing those looking to purchase a property the opportunity to come and physically view homes within their time limitations. It is expected that this will also assist the badly hit tourism and vacation rental sector, which is so important to Hawaii's economy.
Interestingly, the last 5-6 months have created quite a dramatic shift in the real estate market, not just in how real estate agents are doing business, but also the types of buyers who are choosing to purchase a home in Hawaii.
Agents are reporting that many of Hawaii's new buyers, tired of the living in their mainland city especially due to the impact of COVID-19, are looking to move to Hawaii, with a view to making it their primary home. They are looking for a better lifestyle that offers a healthier, safer environment. For many the ability to work from home has now become a way of life, so properties that facilitate a private office or two, plenty of space both inside and out, and importantly, are move-in ready are seeing the most attention.
Luxury real estate statistics clearly show a return to normal for the number of sales as compared to August 2019 for single family homes, although condos sales are still lower. The median sold price for single family homes have increased on Oahu and Kauai, while remaining on par for the Island of Hawaii and Maui. Inventory levels are down significantly on Kauai by 40%, Maui by 21% and Oahu by 19%.
For homeowners currently not living in their properties and looking to sell, now is the time to work with your Corcoran Pacific agent to prepare the home so that its turnkey, as statistics show that these properties are in high demand and fetching close to relatable asking prices.
As always, a real estate expert familiar with local trends is the best resource to navigate a specific market.
To view the full report, please click here.