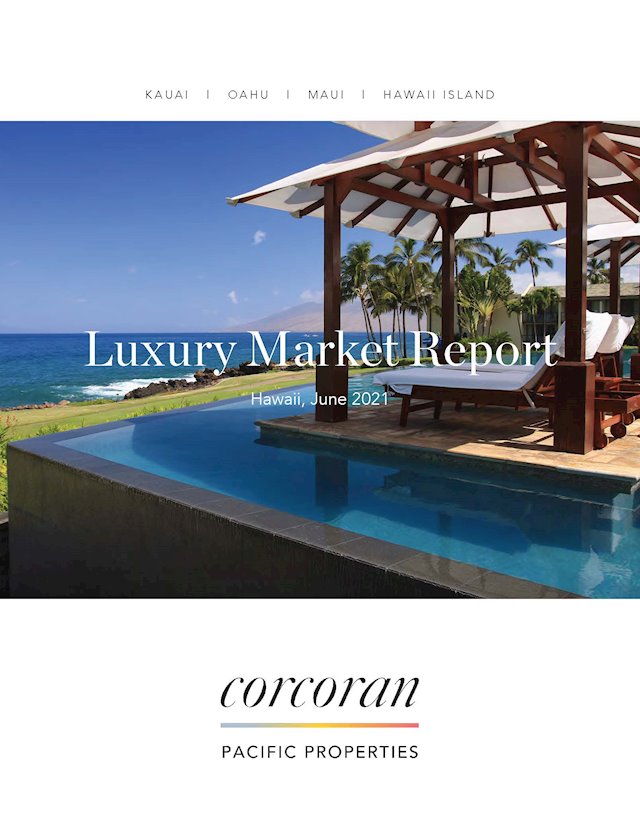 Corcoran Pacific Properties is pleased to present a closer look at the luxury real estate market in Hawaii, showcasing detailed statistical analysis of Kauai, Oahu, Maui and the Island of Hawaii for May 2021.
At the end of 2020, the demand for luxury real estate was already starting to make headlines, as the number of sales and new listings spiked. Hawaii's real estate sales had been on hold for over 6 months, from April – October 2020. So, it was not unexpected that pent up demand would create this reaction.
Now, almost 6 months into 2021 and, although many anticipated a good spring market for Hawaii, the results have been far beyond most people's expectations. Current statistics show that demand is still increasing disproportionately in comparison to the same period in previous years. Inventory levels, for the most part, are still falling and the median price point of sales, for both single family and attached properties, continues to rise.
Compared to May 2020 for single family homes, the number of sales is up 325%, prices have risen by 3% and inventory levels dropped 37%.
The attached property market (condo/townhome), which felt the biggest brunt of Hawaii's pandemic closures with sales dropping significantly, was then followed by a slow return of demand towards the end of 2020. However, the last 3 months have seen a complete reversal with dramatic escalation across all the islands in the number of sales, and ever decreasing inventory levels.
Overall, in comparison to February 2021, the number of sales in May 2021 increased by 40% and inventory levels dropped by 24%. In comparison to May 2020, the number of sales is up 437%, the median price is up 11%, and the inventory level is down by 41%.
Much of the demand for luxury properties has been driven by the continental USA, with California, Oregon and Washington making up the majority of buyers. Affluent buyers see that the Hawaiian real estate market has proven itself, offering them great resilience with relatively stable pricing, not to mention a safe haven.
One key question lies in how these islands will be affected once International travel resumes – after all it is still a firm favorite destination for many of the global affluent – so it might be fair to assume that this upward pressure of demand will continue well into 2021/2022.
As always, a real estate expert familiar with local trends is the best resource to navigate a specific market.
To view the full report, please click here.