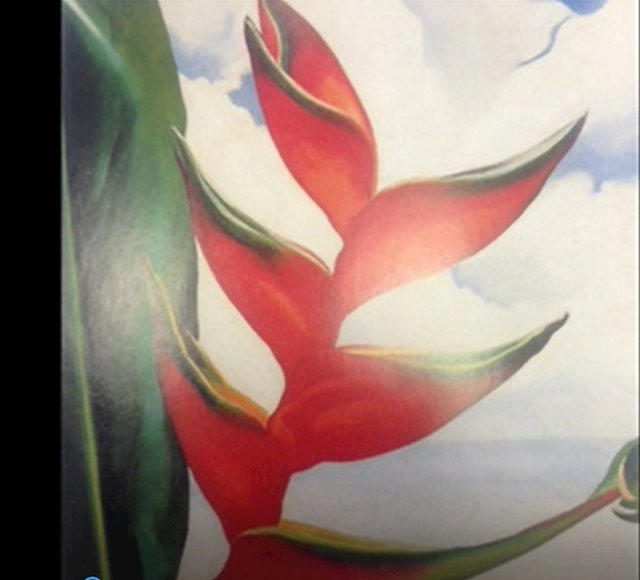 In one of the iterations of my life, I was a design major at the University California at Davis. Of course, I took a bunch of different art classes, as I expected to be the next Georgia O'Keeffe of California. I had fallen in love with her work after a trip to Santa Fe, New Mexico where her life's collection is on display. I loved her use of bright color, exotic plants, and marveled at how she could define the shape and form of a plain white flower on paper. I could identify her flowers; hibiscus, plumeria, poppy, even the blossom of a budding banana tree. They grew in California. However, there was always one painting that always puzzled me. What was the name of this strange flower that I had never seen before? I thought it was some type of lily. It's posted above.
Time passes, I move to Maui. We buy a house in Wailuku Heights, next door to Iao Valley. The Valley seemed so friendly to me. The foggy valleys, the constant cloud cover, and Pu'u Kukui pushing its head out over the clouds, looking so familiar. I just thought these feelings were part of my romantic crush that I have on the island. I have lived many places in the world, but Maui's beauty is magical.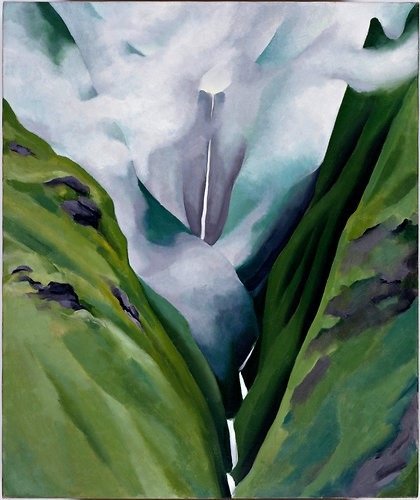 So, August rolls around and I decide to write a blog on one of my favorite artists, Georgia O'Keeffe. She painted all those wonderful flowers that I remembered from my childhood. I'll do a little research on this lady and find something interesting to write about her work. Interesting? She came here to Maui to paint in 1939!!! Who Knew? Those lovely flowers she painted were painted on Maui. She had been commissioned by Dole Pineapple to produce two canvases of pineapples.
O'Keeffe travel to Hawai'i from New York visiting different islands. On Oahu she was not allowed to stay on a working pineapple plantation. Women didn't do that kinda thing then. So, she left for Maui where she went directly to Hana staying on the Kaeleku sugar plantation. Hana at that time had a population of 3500, two cinemas, three barbershops, restaurants, and even a pool hall. Not so today, but Hasegawa's General Store, where she bought her famous straw hat, still stands.
From Hana she explored sea caves, ruins, beaches, and Haleakala Crater. She visited Oheo Gulch and it's Seven Sacred Pools, swam in a cave near Waianapanapa Beach, and painted two lava bridges. One of the lava bridges is just south of Hana on the Coastal Trail. After nine weeks in Hawai'i, O'Keeffe returned to Manhattan where she finished her works on papaya, heliconia, a fish hook, but no pineapples. Dole was a bit upset but had a whole pineapple couriered to her by seaplane. Pineapple she did then paint.
Her trip was a success and Stieglitz's Maison Avenue Gallery showed her works of Hawai'i. Fans loved the new collection. A critic claimed that the works, "testify to Miss O'Keeffe's ability to make herself at home anywhere." Oh, and that strange lily painting that had captured my attention in art school, it's a painting of Iao Valley, my home.
Aloha,
Linda McCormick