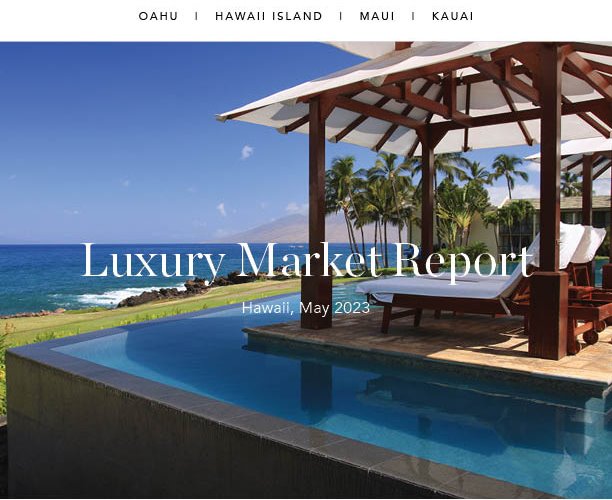 Corcoran Pacific Properties is pleased to present a closer look at the luxury real estate market in Hawaii, which includes detailed statistical analysis of Oahu, the Island of Hawaii, Maui, and Kauai for April 2023.
One of the biggest questions on our buyers and sellers' minds is whether it's a good time to buy or sell real estate in Hawaii, especially as we head into what is typically the peak buying season.
The signals are certainly mixed. Last month we reported increasing levels of luxury home sales in both the single-family and attached property markets. This month it feels as if the market has stalled, with the number of sales during April remaining almost on par with those in March (82 in April versus 83 in March for single-family homes, and 148 versus 159 for attached properties).
Some of this market hesitancy is attributable to inventory levels falling again rather than increasing. This would typically put pressure on buyers; however, new mindsets are now in play, with many no longer willing to enter bidding wars or offer over-asking prices – causing the market to seemingly stall.
Outside influences are also affecting decisions, from the announcement by the U.S. Federal Reserve to increase interest rates again in May, in the hope of countering rising inflation, to the continued concerns about an economic downturn and current stresses on the banking system, also giving people a further reason to pause.
Overall, the Hawaiian real estate market as of the end of April 2023 is 'balanced'- where neither the buyer nor the seller controls the market. While this provides buyers with more time to view properties, sellers also benefit as offers are usually still close to asking because inventory remains limited.
However, in markets where even real estate experts and economists freely admit they cannot agree on predictions for 2023, for those invested in making decisions, rather than looking at the bigger picture, we recommend a different approach.
While national trends are helpful, learning about your hyper-local market will provide more clarity into which price points or property types are in demand, whether prices are selling close to asking, how long properties are taking to sell, and most importantly, can you achieve your selling or buying expectations currently?
As in all markets, there are always opportunities and challenges for buyers and sellers for certain property locations, types and price points. It is important to work closely with a real estate expert familiar with local trends as they are the best resource to navigate the specific and varied markets found within the Hawaiian Islands.
You can view the full report here (flipbook) and download the pdf copy here.