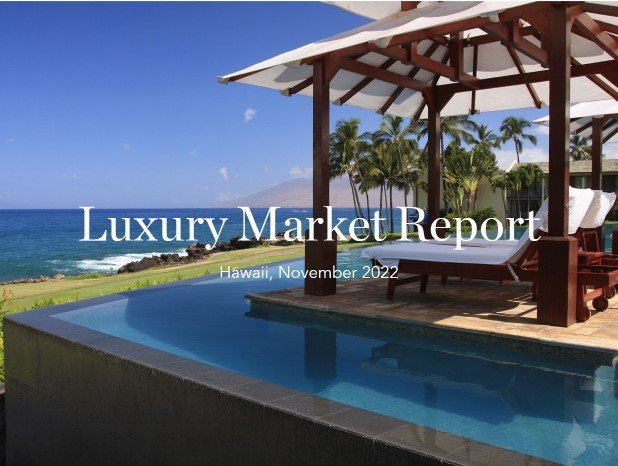 The month of October saw very little change in the overall status of the luxury real estate market, which remained mixed.
The number of luxury single-family home sales on the Island of Hawaii reflected an upward trend since July increasing from 15 sales to 21 in October, while on Maui the number of sales declined from 27 in July to 13 in September but climbed back to 21 in October. In contrast, Oahu and Kauai experienced a slow downward trajectory in their number of sales. Oahu's sales declined from 48 in July to 24 in October, and Kauai saw a slight drop from seven in July to five in October.
In the detached luxury market, on Oahu the number of sales increased from 108 in July to 119 in October, Maui remained static at around 20-21 sales per month, whereas Kauai and the Big Island experienced more impactful declines in their number of sales. Sales in Kauai dropped from 14 in July to four in October, and from 19 in July to seven in October for the Island of Hawaii.
Prices in the luxury single-family market have, in general, trended downwards over the last four months. The median sold price ($2,060,625) in October is now 3% lower than July ($2,216,125), however, still 2% higher than October 2021's median sold price of $2,025,750. The luxury attached home market's median sold price saw a 2.6% decline from $1,349,250 in July to $1,313,125 in October, and a 6% decline compared to October
2021.
In a typical market these statistics would indicate that the market is beginning to lean more favorable to buyers, but there is still a lack of new inventory entering the market, which is hampering choice and keeping prices higher than expected, as reflected in the fact that on both Oahu and Kauai single family homes sold at a 100% list to price ratio, certainly not what one would expect to find in a typical Buyer's market. As in all markets, there are always opportunities and challenges for buyers and sellers for certain property locations, types and price points. The opportunity to work closely with a real estate expert familiar with local trends is the best resource to navigate the specific and varied markets found within the Hawaiian Islands.
You can view the full report here (flipbook), and download the pdf copy here.