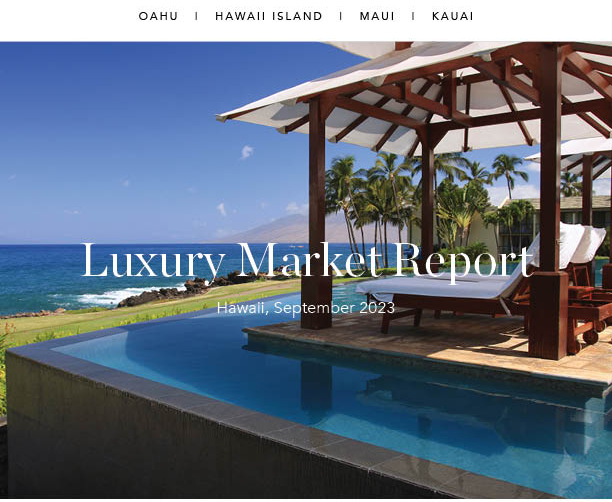 Corcoran Pacific Properties is pleased to present a closer look at the luxury real estate market in Hawaii, which includes detailed statistical analysis for your in-depth review of Oahu, the Island of Hawaii, Maui, and Kauai for August 2023.
At first glance, affluent buyers looking to purchase a luxury property in Hawaii will find that the overall market seems to have changed very little when we compare the data year-over-year at the end of August in terms of total sales, inventory, and price point for both the single-family and attached property market.
In August 2022, there were 104 sales of luxury single-family homes, and in 2023, there were 103; for attached properties, there were 144 sales in 2022, and in 2023 only 7% less at 134, across all the islands.
The median price also varies little, moving just 3% downwards from $2,199,375 in August 2022 to $2,133,750 in 2023for single-family homes, and it is almost on par at $1,405,313 in2022 and $1,406,875 in 2023.
Equally, inventory has only increased by 5% for single-family (490 to 516) and stayed on par for attached (556 to 557)when comparing the August statistics.
But, as always, there is more to this story. When we dive into the individual islands, we find quite a disparity between islands and property types.
For instance, Oahu saw a 22% (55 to 43) decline in sales for luxury single-family homes, whereas on the Big Island, sales rose a massive 124% (17 to 38). The answer to why there are such diverse results is likely due to the number of listings available; Oahu's inventory levels only climbed 2% (196 to 199), whereas listings on the Big Island grew 44% (112 to161), thereby providing greater opportunity for buyers.
Conversely, In the attached property market, Oahu saw sales at par (85 to 84) year-over-year and only a 13% (383 to432) increase in inventory, whereas Kauai saw a 60% (15 to 6) decline in sales and an equally large fall in inventory of57% (42 to 18).
The variances across these individual islands, property types, and price points show that while the overall luxury market in Hawaii remains balanced (where neither the seller nor the buyer has dominance over the other), demand and supply at the local level are starting to change and having a more dynamic impact.
As in all markets, there are always opportunities and challenges for buyers and sellers for certain property locations, types, and price points. It is important to work closely with a real estate expert familiar with local trends as they are the best resource to navigate the specific and varied markets within the Hawaiian Islands.
You can view the full report here (flipbook) and download the pdf copy here.