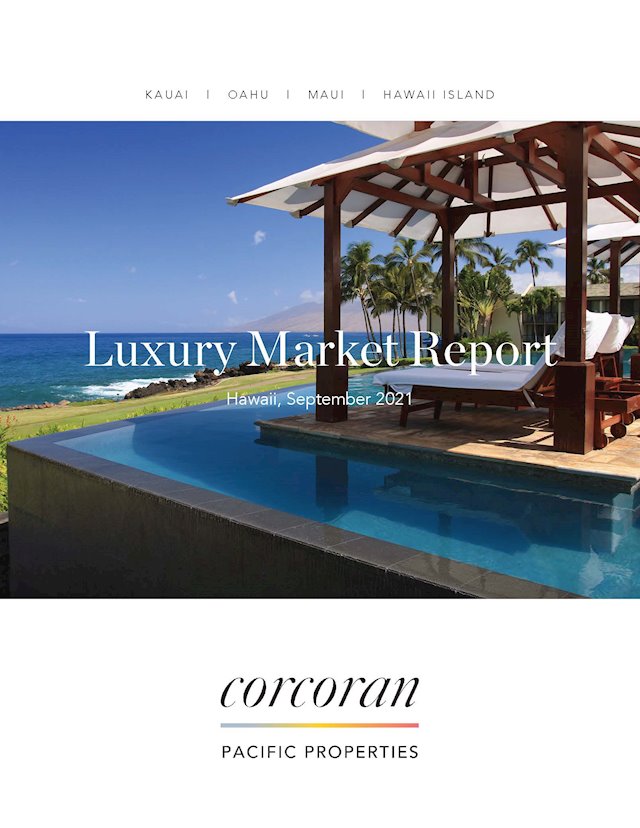 Corcoran Pacific Properties is pleased to present a closer look at the luxury real estate market in Hawaii, showcasing detailed statistical analysis of Kauai, Oahu, Maui and the Island of Hawaii for August 2021.
The biggest question on most potential buyer and seller's minds is how long will this fast paced, high demand seller's market last?
Given that inventory levels are still trending down month over month, although at a slower trajectory, and properties are on average selling close to their asking price, it would appear that Hawaii's luxury real estate market is still in high demand.
The fact that the number of sales and median price points have remained fairly stable over the last few months is probably due to the lack of available new inventory for people to purchase, rather than any indication of a downturn in the market.
One of the most significant trends, predicted for this fall, is for a continued increase in demand for luxury properties in popular vacation and resort style locations, made all the more possible now that working remotely plays such a major role in the way the affluent conduct their everyday business.
There has been increasing focus to invest in locations that complement lifestyle choices, and the Hawaiian Islands feature at the very top of this list as a perfect location for a second home.
In addition, as we reported last month, tourists currently vacationing throughout the islands also continue to fuel the purchase of luxury real estate. In particular, vacation investment properties have seen a significant surge in demand, a segment which this time last year saw very little activity.
Although the islands, and their individual luxury real estate markets, are currently in a seller's market, with sellers and buyers still receiving multiple offers on their properties, economists do not consider this to be a bubble market.
Paul Brewbaker, a Hawaiian Economist, calls the last 15 months a mini bubble – reasoning that because price appreciation happened steadily over 12 months, to be followed by a tapering off during the last few months, this is instead a resetting of price points. He foresees a high probability that price appreciation will begin to settle back to pre-covid annual rates of 4-5%.*
As always, a real estate expert familiar with local trends is the best resource to navigate a specific market.
To view the full report, please click here.
*https://www.hawaiipublicradio.org/the-conversation/2021-08-17/local-economist-shares-thoughts-hot-housing-market