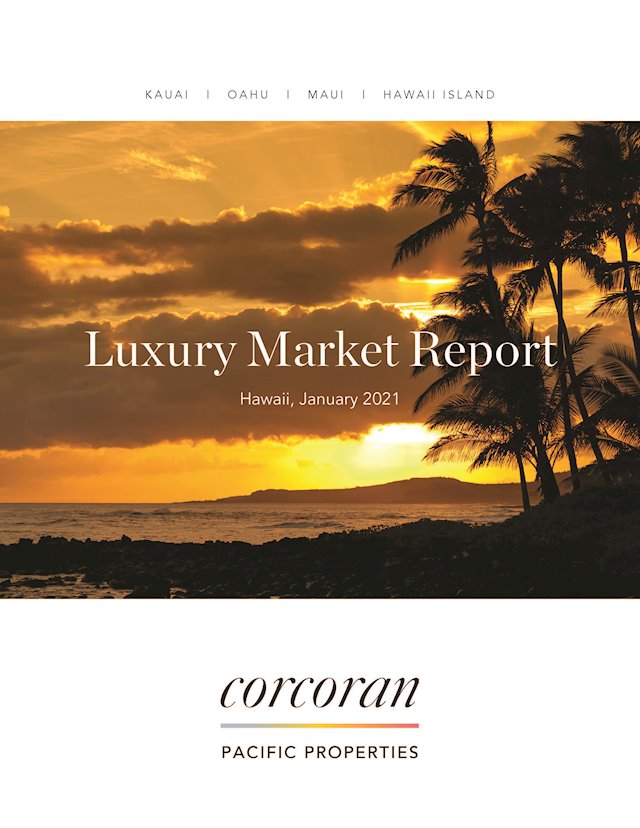 Corcoran Pacific Properties is pleased to present a closer look at the luxury real estate market in Hawaii, showcasing detailed statistical analysis of Kauai, Oahu, Maui and the Island of Hawaii for the year end of 2020.
Although Hawaii's economy was greatly impacted by the COVID-19 pandemic in 2020, with the tourism industry seeing the biggest downturn, recent predictions by the Hawaii State Department for Business, Economic Development and Tourism forecasts a strong return in 2021. Although they do acknowledge that it may take several years to return to the numbers of 2018 and 2019, the key economic indicators are positive.
The luxury real estate market was similarly affected in the second and third quarters of 2020, with the market almost stagnating and potential sales put on hold until visitor restrictions were eased in October 2020. The positive effect of these strong precautions showed to the affluent, outside its borders, that Hawaii was a location that not only offered a tropical paradise but, more importantly, a luxury safe haven.
As a result, the Hawaiian luxury real estate market has shown a marked sales growth month over month in the last quarter for 2020. December 2020 compared to November 2020 shows an increase of sales by 25.5% for single family homes and 14.47% for attached properties. Looking at December 2020 figures compared to December 2019, there was a 123.63% increase in sales for single family homes and 7.4% for attached properties.
Inventory levels have dropped comparatively to 2019, probably due to a combination of high demand and homeowners deciding to hold on to their residence, which may have previously been on the market. Single family homes show a 23.6% decrease in inventory and attached properties, which includes condos, levels have fallen by 7.29%.
This increased demand and lower inventory has fueled prices which, in general, have increased by 17.5% for luxury single family homes compared to December 2019; although attached properties are still below traditional levels by 12.6%, on average.
For homeowners currently looking to sell, now is the time to work with your Corcoran Pacific agent to prepare the home so that it's turnkey, as statistics show that demand for properties in Hawaii is projected to continue to increase, and fetch close to relatable asking prices.
As always, a real estate expert familiar with local trends is the best resource to navigate a specific market.
To view the full report, please click here.