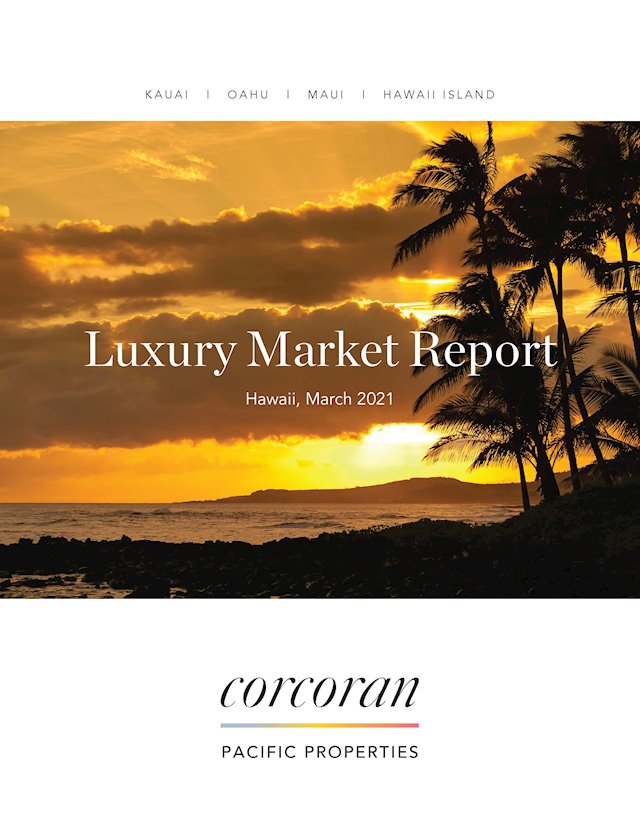 Corcoran Pacific Properties is pleased to present a closer look at the luxury real estate market in Hawaii, showcasing detailed statistical analysis of Kauai, Oahu, Maui and the Island of Hawaii for February 2021 and comparisons against February 2020.
Predictions of a strong year for the Hawaiian Islands are holding true as once again luxury home sales continue to outpace the numbers purchased during the same period in 2020, for both the attached and detached markets. The number of sales for single family homes was 160% greater than last year and 67% greater for attached homes.
Price points overall have also continued to rise in the luxury market with a 7% gain for single family homes and a 5% gain for attached properties. This increase in value is not only a result of increased sales, but also due to low inventory levels across all islands in both detached and attached markets; with levels at 61% and 74% lower respectively compared to February 2020.
It is exciting to see the return of the attached luxury property market as, for the first time since the start of the pandemic, the number of sales continues to grow each month as well as being significantly higher in February 2021 when compared to February 2020.
Maui's luxury attached market shows the largest increase in demand with sales numbers 92% higher than February 2020, the Island of Hawaii shows an 83% increase, and Oahu and Kauai rose 58% and 45% respectively. With the exception of the Island of Hawaii, that showed a 67% decrease in inventory levels compared to last year, the other islands show an average 20% decline in attached property availability.
The significant median price point increase of 18% for the Island of Hawaii bears out the importance of understanding the effects of high demand and low inventory levels. The median prices for attached homes on the other islands still remain slightly lower than average, but with the summer months just around the corner, speculation is that these will slowly climb in-line with visitor returns.
The luxury single family market remains firmly in the hold of sellers as demand for these properties still exceeds new inventory coming into the marketplace. During February, Kauai saw an impressive 600% increase in sales when compared to February 2020 numbers, Maui saw a 222% increase and the Island of Hawaii and Oahu, 157% and 76% respectively. Inventory levels continue to fall month over month across all the islands and expectations are that they will remain low for the foreseeable future.
For homeowners currently looking to sell, now is the time to work with your Corcoran Pacific agent to prepare the home so that it's turnkey, as statistics show that demand for properties in Hawaii is projected to continue to increase, and fetch close to relatable asking prices.
As always, a real estate expert familiar with local trends is the best resource to navigate a specific market.
To view the full report, please click here.