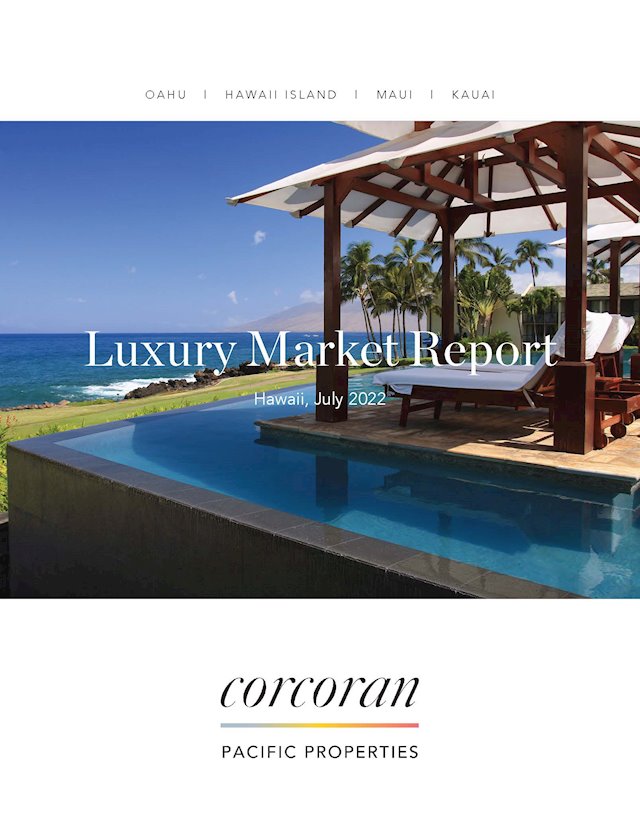 Corcoran Pacific Properties is pleased to present a closer look at the luxury real estate market in Hawaii, which includes detailed statistical analysis of Oahu, the Island of Hawaii, Maui and Kauai for June 2022.
In line with rising inventory levels for the luxury real estate market throughout North America, the Hawaiian islands also saw significant increases last month. Single-family levels rose by 23% and attached properties increased by 45%, compared to June 2021.
The comparative level of properties listed for sale month over month was also significant with an increase of 21.7% for single family homes and 12.8% for attached properties, compared to May 2022. While many individuals may jump to the conclusion that these increases forecast a downturn in the market, in comparison with Hawaii's 10-year inventory averages, prior to the pandemic, the current level remains 25-30% lower.
Although sales in the single-family market have fallen 20% compared to 2021, the attached market shows an 18% increase in condos and townhomes purchased. In general, market prices have now leveled off but continue to remain at their highest price point in Hawaii's luxury real estate history.
"The Hawaii market is expected to remain unsettled for the next few months" stated Gregg Antonsen, SVP Luxury Sales for Corcoran Pacific. "Buyers have certainly become a little more wary given both the current economic and fiscal volatility, however, this influx of homes entering the market now affords them the opportunity of greater choice and more time to buy, which is naturally slowing down the speed and volume of luxury sales."
Despite increasing inventory levels, Antonsen anticipates that the luxury market will remain strong and any buyers waiting for prices to decrease sharply should be prepared to be disappointed, certainly in the short term. Given the volume of homes purchased recently and that many of these recent buyers bought homes with an eye to long-term security for their family it is unlikely, even if prices do decline slightly, that there will be a rush to sell these homes.
For those looking to sell in this slowing and unsettled market, Antonsen acknowledges that multiple offers and over asking prices may be a thing of the past, but that a move-in ready property will still command more attention as buyers simply do not have the time, resources nor the interest, especially if they are not local, to renovate.
As always, a real estate expert familiar with local trends is the best resource to navigate the specific and varied markets found within the Hawaiian Islands.
To view the full report, please click here.