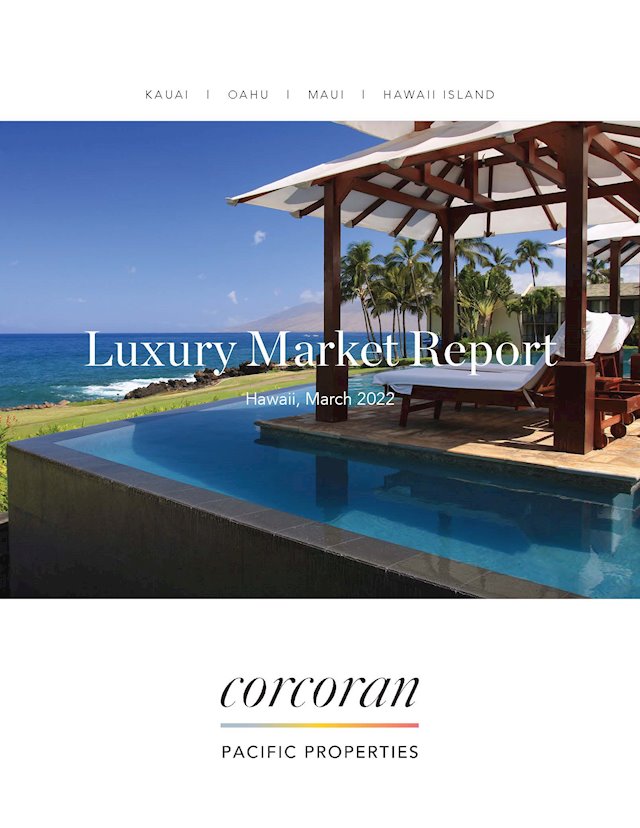 Corcoran Pacific Properties is pleased to present a closer look at the luxury real estate market in Hawaii, which includes detailed statistical analysis of Kauai, Oahu, Maui, and the Island of Hawaii for February 2022.
In real estate it is normal for statistics to measured month-over-month to appreciate any unfolding trends. In the luxury market, quarterly and yearly comparisons are more common as typically a slower pace of sales is expected.
However, to truly appreciate the staggering demand for luxury real estate since October 2020 (when the islands officially welcomed visitors back), comparing data from two years ago clearly shows how significantly demand has changed since pre-pandemic times; because of pent-up demand, rising equity markets and the need to find a safer haven.
Indeed, the differences between these two-year's results are staggering, especially for luxury single-family properties. The number of properties sold during February 2022 compared to February 2020 increased by an average of 173% across all islands. Whereas, year-over-year the number of sales for February showed a slight decrease of -3%. This might indicate that the market is slowing, however, looking more closely at inventory levels provides a greater insight into why demand has not fallen.
The level of inventory available in 2022 has decreased by 31% compared to 2021 but more significantly by 59% since 2020. While there are still luxury homes available, currently new sales are being impeded by the lack of desirable homes available for purchase. Realtors are also reporting that the higher the price bracket the less inventory available.
Currently, the attached luxury property market continues to see significant sales increases when compared to the same months in 2021, which is a reflection of the slower return of demand for these types of properties and well as a more gradual decline in inventory levels.
The number of sales compared to 2020 has risen by 171%, and 38% compared to 2021. Inventory levels are on the decline, but not to the same level as single-family homes, falling by 38% since 2020 and 21% compared to 2021.
What does this all signify? The simple answer is that unless inventory levels improve dramatically then increasing the number of sales per year will remain inhibited. Luxury homes are expected to continue experiencing multiple offers and prices are anticipated to keep trending upwards.
One word of caution, for homeowners looking to sell in this market, a move-in ready property will command not only more interest but will be more likely to be purchased; buyers simply do not have the time, resources nor the interest, especially if they are not local, to renovate.
As always, a real estate expert familiar with local trends is the best resource to navigate a specific market.