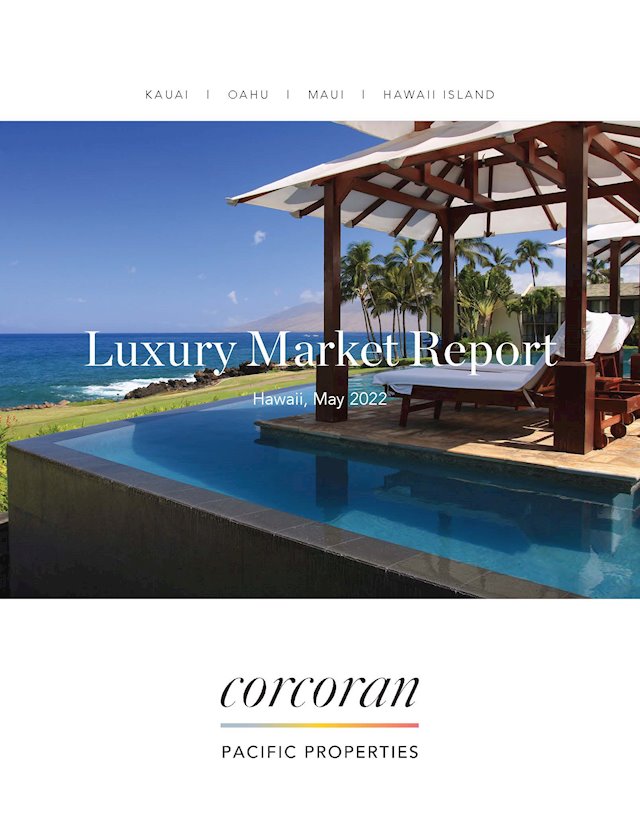 Corcoran Pacific Properties is pleased to present a closer look at the luxury real estate market in Hawaii, which includes detailed statistical analysis of Kauai, Oahu, Maui, and the Island of Hawaii for April 2022.
Taking a comprehensive approach, the overall impression of Hawaii's luxury real estate market is one of stability and consistency since the start of 2022 and in comparison, to April 2021. This is not to say that inventory levels have increased to where supply outweighs demand or that demand has decreased because, in comparison to statistical data prior to the pandemic, the differences still show that 2022 is an extremely strong seller's market.
However, except for a few year-over-year comparative data points, the statistics being reported show a consistency in the numbers of sales, inventory and price points. Also, where inventory levels are increasing slightly by single digit percentages, this gain is often reduced by a matching increase in sales.
While many buyers over the last two years have tended to be from the mainland, as the normalcy in global travel returns, so too has there been an increase of international interest. According to data collected for Mansion Global by Realtor.com, Honolulu saw more than 10% of its luxury real estate searches conducted by foreign purchasers over the last few months.
It is yet to be determined if the return of the international buyer will drive more sales and decrease inventory still further, but it is certainly anticipated that any decrease in demand from mainland buyers will quickly see a foreign buyer step in.
One island that does stand out this month, showing a significant comparative increase in demand year-over-year and growth since February of this year, is Oahu. Sales increased by 31% for single family homes and by 84% for attached properties, year-over-year. January and February 2022 saw fewer sales – unlike the other islands where the numbers remained consistent – only to increase by 50% during March and April. Interestingly, monthly inventory levels saw little change, despite this increase in sales, indicating that more properties entered the Oahu real estate market, offsetting this demand.
In counter opposite, Kauai saw a 56% decrease in its inventory level for single family homes and 36% for attached properties in April 2022, compared to April 2021. This was not a sudden drop, because numbers have gradually fallen month-over-month during the last year, but it does indicate that very little new inventory is coming into Kauai's market.
It is unlikely that inventory levels will change significantly over the next year which is why it's important to work with one of our local real estate experts, who are both familiar with local trends and will be your best resource to navigate this challenging market.
To view the full report, please click here.